"The Canon EOS R3 is a state-of-the-art camera with lightning-fast autofocus, exceptional image quality, and robust design that can handle any environment, helping you take exceptional photos."
The Canon EOS R is a versatile camera with superior technology, precise autofocus, and exceptional image quality. Ideal for pros and amateurs, it captures unforgettable moments with stunning detail. Get started today!
The CANON EOS R5 C is a top-quality camera for professionals. It shoots at 12 frames per second with 5-axis stabilization, quick autofocus, 8K video, full-frame sensor, and is weather-proof with a magnesium alloy construction.
The Canon EOS R6 Mark II is a high-end camera with exceptional features for both amateurs and professionals. It boasts excellent autofocus and low-light capabilities, making it ideal for portraits, landscapes, and action scenes. Moreover, it has a simple design that caters to all skill levels.
The Canon EOS R 6 is a versatile camera suitable for pros and beginners, taking clear photos in low light or fast-moving scenarios. With user-friendly settings and exceptional picture quality, it is perfect for capturing people or action sports.
The Canon EOS R7 is a versatile camera for professionals and amateurs, featuring a powerful sensor, fast shooting, and customizable settings. It is perfect for landscapes, fast-moving objects, and portraits. Get the best camera experience with the Canon EOS R7.
The Canon EOS R8 is an advanced camera designed for professionals and enthusiasts. It offers powerful features for stunning shots in any situation. With its sleek design and easy-to-use controls, it's perfect for capturing landscapes, portraits, and action shots. Start exploring photography with the Canon EOS R8 today!
The Canon EOS R10 is set to outdo its popular predecessor, the EOS R camera. With higher resolution and advanced autofocus, the EOS R10 promises stunning photographs and action videography with ease. Its streamlined design makes it a must-have for hobbyists and professionals alike, so stay tuned for more updates!
The CANON EOS R50 is a versatile, professional-grade camera for photographers of all levels. It features advanced autofocus, 4K video recording, and high-speed continuous shooting to create vivid, sharp images and videos. Capture life's precious moments with the exceptional flexibility and versatility of this camera.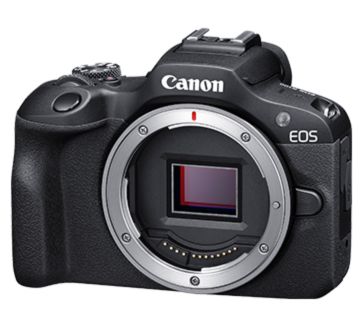 The Canon EOS R100 is a high-end camera for photographers seeking quality and versatility. With advanced features, a user-friendly interface, and a sleek design, it excels in capturing stunning landscapes, action, and portraits with detail and image quality, thanks to its high-res sensor and autofocus system. A must-have for improving your skills.
The Canon EOS RP is a versatile camera perfect for all levels of photographers. Its advanced technologies and features provide stunning results, while its lightweight and user-friendly design allow for easy transportation and operation. Whether capturing landscapes or portraits, the EOS RP delivers exceptional performance, versatility, and value.
The Canon EOS R3 is a top-notch camera with amazing features for all photographers. Perfect for professionals or amateurs who want to capture stunning images with ease, it boasts a powerful sensor and lightning-fast autofocus system. With exceptional performance, the Canon EOS R3 is a game-changer in photography.
Canon EOS R5: A full-frame mirrorless camera with 45-megapixel sensor, advanced autofocus, high-speed performance, 5-axis in-body image stabilization, and lens compatibility. Ideal for professionals and photography enthusiasts who demand high-quality results. Take your photography to the next level.